RFRL30 High Speed Rapier Loom
The RFRL30 high speed rapier loom is primarily designed and used for weaving natural, synthetic, rayon, and blended yarns into various complex cloth, upholstery fabric, fiberglass fabrics, filter fabrics, and industrial fabrics for safety applications.
Technical Parameters
Reed Width (cm)
Nominal reed with width: 170, 190, 200, 220, 230, 240, 260, 290, 320, 340, 360.
Effective reed width:0cm~80cmsubtracted from the nominal reed with value
Weaving Capacity
Cotton and man-made fiber yarn: 500tex(1.2Ne) ~ 5tex(120Ne)
Slub yarn or worsted wool: 680tex(1.5Nm) ~10tex(100Nm)
Filament: 10dtex (9Td) ~ 1650dtex (1500Td)
Fabric weight: 20~850g/m2
Weaving Speed
Rotational speed: 700r/min
Crafting speed: 450~650r/min
Maximum weft insertion rate:1500m/min
Weft selector: 4~8colors (allowable colors of weft pick to be woven) Selector type: linear-motion motor or step motor type electronic weft selector
Configuration introduction
Weft
Weft accumulator: fixed drum type weft accumulator or electronic weft accumulator
Weft cutter: mechanical type
Power
Drive control: 7.5kw three-phase asynchronous motor, electromagnetic clutch, starter motor
Main motor: 7.5kw AC three-phase asynchronous motor
Shedding
High speed dobby shedding system (Its maximum allowable number of heald frames is 20.) or active type cam shedding system(Its maximum allowable number of heald frames is 8.)
Jacquard shedding system
Weft Beating
Sley (driven by two conjugate cams on both sides of the loom)
Weft Insertion Device
Mechanical linkage of crankshaft and connection rod(without hooks)
Warp Let-off Mechanism
AC servo motor for continuous warp let-off motion
Single warp beam
Warp flange diameter: φ1000mmφ800mmφ700/φ500mm
Cloth Take-up
Electric servo motor for continuous cloth take-up
Cloth roll diameter :600mm(standard) or1200mm(with the aid of external device)
Weft density: 2~200picks/cm
Selvedge Formation
Selvedge forming device: stepper motor or linear motor
Selvedge cutter: mechanical type or electronic type(for option)
Temple: two independent temples set on both sides of the loom or one temple spanning the full width of the warp
Lubrication
Oil spray lubrication or oil bath lubrication
Stop Protector
Warp stop-motion with 6 or 8 rows of contact points
Weft stop-motion: highly-sensitive piezoelectric sensor
Other stop-motion mechanisms available to stop the loom automatically if the selvedge breaks.
Stop-indicator: The reason for the loom to stop is presented on the control panel. The 4-color light will be turned on to warn users.
Automatic Functioning
Automatic loom stop at the designated point, slow-speed weft-finding, cloth-fell compensation (broken weft repair), warp tension adjustment, reset, automatic warp tension detection, loom fault display.
Electrical Control
Multi-function CPU control system for monitoring, automatic diagnosis, and information display.
Touch screen or large liquid crystal display(LCD) for two-way communication, setting or adjusting parameters, programming
Features
I. Usability
a. Our rapier loom can be supplied with various configurations to meet the requirements of different weaving applications. Its rated rotational speed is 700 rounds per minute allowing for a maximum weft insertion rate of 1500m/minute. The largest working width ranges between 170cm and 380cm.
b. The ergonomic design features a HD computer screen display, providing for friendly human machine interface. Its modular arrangement enables the loom to convert quickly from weaving one fiber to another without needing a new loom. Thanks to the highly automatic numeric control, the weaving parameters can be adjusted more easily during changeover.
II. Unique Structure
a. Weft Yarn Insertion Assembly--The rapier is driven by and connected to the crank via the connecting rod. This linkage mechanism gives optimized acceleration curve and speed curve, which ensures accurate, stable weft transfer and rapier movement, reduces weft breakage, and improves weft insertion efficiency.
b. One Shot Lubrication System-Controlled by the micro computer, the oiling system increases reliability and service life under good lubricating condition.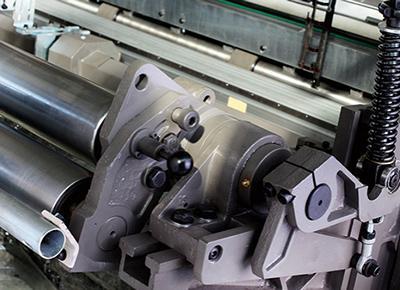 III. Sturdy Construction and Great Beat-up Force
a. The state of the art, robust frame comprises of two high-strength cast panels on both sides of the structure and a rugged cross beam for support. It has great rigidity, high strength, and enhanced anti-vibration characteristics and better satisfies customer needs for high speed, large working width, and low noise.
b. Strengthened back beam, warp beam, and support demonstrate good rigidity and high strength. As well as meeting the requirements for weft beat-up, the strengthened structure also helps maintain consistent warp tension.
c. The main transmission system includes a three-phase asynchronous motor which drives the high-performance electromagnetic clutch. This transmission mechanism delivers high speed torque, good braking capacity, stable running, and minimum energy consumption.
d. Driven by the conjugate cams fitted to both sides the loom, the loom sley drive (detachable) transmits the motion from the cam to the reed for weft beat-up. This drive mechanism reduces vibration and impact suffered by the cloth-fell. Thanks to the sley drive mechanism, the loom can perform reliable beat-up operation during weaving at high speed to fulfill the requirements for weaving high-density, tightly-tensioned fabric.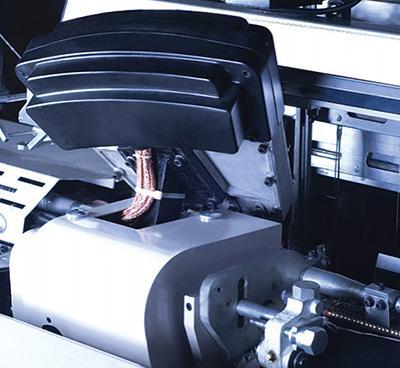 IV. Mechatronic Design
a. The warp let-off and take-up system are both controlled by the advanced servo motor to ensure the warp tension is consistent all the way across, whether the warp beam is full loaded or empty loaded. The motor also helps guarantee an accurate, proper weft density, eliminate set mark, and ensure flat, even fabric.
b. The high speed electronic weft selection device allows 4, 6, or 8 colors of filling(weft pick) with consistent, loose tension to be woven. The operating time can be set on the control panel.
c. The processing time of the high-speed selvedge forming device can also be set via the control panel according to different crafting requirements.
d. High-speed electronic weft accumulator performs weft replenishing operation within its lightweight, compact design. It delivers an even unwinding tension to fulfill the requirements for high-speed weft insertion.
e. The shedding motion can be controlled in one of the two ways, either jacquard shedding or dobby shedding. The maximum practical number of heald frames in rapier looms with dobby is 20. Known for its large load capacity, the dobby shedding system enables reliable, accurate functioning while it ensures proper shedding.
V. Automatic Functioning
a. Slow-Speed Pick Finding
In the event of weft break, the pick finder signals the weaving unit to move in the reverse manner for pick-finding, thereby facilitating broken weft repair and shortening pick-finding time. Once the picking finding mechanism is actuated, it can automatically compensate the broken weft, adjust the warp tension, and choose the proper weaving process for re-circulating weft repair. Therefore, loom stoppage can be avoided and quality fabric can be guaranteed.
b. Automatic Control
The automatic control functions include loom overload protection, automatic loom stoppage in the event of weft breakage, broken weft repair, automatic warp tension adjustment, automatic control of selvedge twisting time, weft beat-up(weft pick count controlled by NC system), network monitoring, automatic detection and reset, automatic fault diagnosis, and automatic display.
VI. Electronic Control
a. Highly efficient and simple to use, the friendly human-machine interface makes for storage of large amount of data. It makes two-way communication a possibility, wherein users can set as and adjust various crafting parameters as well as program the loom to weave according to the specific crafting procedures. For operation convenience, the operating platform is fitted to the left side and in the front of the loom, close to main control buttons and weft selector. The table (platform) is independently disposed to avoid vibration transmitted from other units of the loom.
b. The advanced, multi-function CPU electronic control system enables stable, reliable functioning. Not only does it manage and monitor all electrical control units therein, but also it controls all the external devices (dobby and jacquard) thereof via input and output port. The USB connectors makes parameter setting, weaving procedure input and output, data transmission easier than before. Thanks to this unique control system, users can quickly gather loom operating information, monitor weaving conditions, and allow for timely, automatic control and adjustment.
VII. Physical Appearance
The optimized rapier loom design represents the advanced ergonomic concept, which can effectively keep operators from the loom noise source, thus causing no harm to their body. The design also protects the loom components and parts from dust, ensuring safe, effective operation. All in all, the loom has a unique, aesthetically appealing physical appearance.
VIII. Maximum Price/Performance Ratio
RFRL30 Dimensions

| | | | |
| --- | --- | --- | --- |
| Flange Diameter (mm) | L | H1 | H2 |
| φ1000 | 2033 | 527 | 428 |
| φ800 | 1837 | 439 | 332 |
Specification
LP
A
B Fabrics
C Warp beam
Max
Min
Max
Min
170
2100
1700
900
1700
910
190
2300
1900
1100
1900
1110
200
2400
2000
1200
2000
1210
220
2600
2200
1400
2200
1410
230
2700
2300
1500
2300
1510
240
2800
2400
1600
2400
1610
260
3000
2600
1800
2600
1810
290
3400
2900
2100
2900
2110
320
3800
3200
2400
3200
2410
340
4000
3400
2600
3400
2610
360
4200
3600
2800
3600
2810