RFRL31 High Speed Rapier Loom
The RFRL31 high speed rapier loom inherits the desirable features from our older RFRL30 weaving machine. Directly driven by the cutting-edge switched reluctance motor (SRM), our rapier loom not only uses 20% less energy than conventional ones under the same weaving conditions. It also delivers a higher power factor while yielding quality fabrics. It's definitely an advanced world-level weaving machine.
Technical Parameters
Reed Width
Nominal reed width:170cm, 190cm,200cm,220cm, 230cm,240cm,260cm,290cm, 320cm,340cm, 360cm, 380cm
Effective reed width:0cm~80cmsubtracted from the nominal reed with value
Weaving Capacity
Cotton or man-made fiber: 500tex(1.2Ne)~5tex(120Ne)
Slub yarn or worsted yarn: 680tex(1.5Nm)~10tex(100Nm)
Filament: 10dtex (9Td)~1650dtex (1500Td)
Allowable fabric weight: 20~850g/m2
Weaving Speed
Rotational speed: 700r/min
Crafting speed: 450~650r/min
Maximum weft insertion rate:1500m/min
Weft selector: 4~8colors (allowable colors of weft pick to be woven) Selector type: linear-motion motor or step motor type electronic weft selector
Configuration introduction
Weft
Weft accumulator: fixed drum type weft accumulator or electronic weft accumulator
Weft cutter: mechanical type
Power
Drive control: 7.5kw three-phase asynchronous motor, electromagnetic clutch, starter motor
Main motor: 7.5kw AC three-phase asynchronous motor
Shedding
High speed dobby shedding system (Its maximum allowable number of heald frames is 20.) or positive type cam shedding system (Its maximum allowable number of heald frames is 8.)
Jacquard shedding system
Weft Beating
Sley (driven by two conjugate cams on both sides of the loom)
Weft Insertion Device
Mechanical linkage of crankshaft and connection rod
Warp Let-off Mechanism
AC servo motor for continuous warp let-off motion
Single warp beam
Warp flange diameter: φ1000mmφ800mmφ700/φ500mm
Cloth Take-up
Electric servo motor for continuous cloth take-up
Cloth roll diameter :600mm(standard) or1200mm(with the aid of external device)
Weft density: 2~200picks/cm
Selvedge Formation
Selvedge forming device: stepper motor or linear motor
Selvedge cutter: mechanical type or electronic type(for option)
Temple: two independent temples set on both sides of the loom or one temple spanning the full width of the warp
Lubrication
Oil spray lubrication or oil bath lubrication
Stop Protector
Warp stop-motion with 6 or 8 rows of contact points
Weft stop-motion: highly-sensitive piezoelectric sensor
Other stop-motion mechanisms available to stop the loom automatically if the selvedge breaks.
Stop-indicator: The reason that may cause the loom to stop is presented on the control panel. The 4-color light will be turned on to warn users.
Automatic Functioning
Automatic loom stoppage at the designated point, slow-speed weft-finding, cloth-fell compensation (broken weft repair), warp tension adjustment, reset, automatic warp tension detection, loom fault display.
Electrical Control
Multi-function CPU control system for monitoring, automatic diagnosis, and information display.
Touch screen or large liquid crystal display(LCD) for two-way communication, setting or adjusting parameters, programming
Features
Energy Efficiency
The use of a switched reluctance motor eliminates the need for a transmission clutch and drive belt. The powerful, effective electronic switching system allows the motor to consume less energy, reduce the failure rate, and decrease maintenance cost.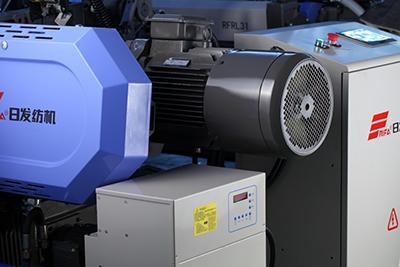 Novel Transmission Mechanism for Shedding System
The warps are given shedding motion by the switched reluctance motor. Weft-finding motion is precisely controlled by the CPU and SRM. All these control features ensure reliable, stable functioning as well as reduces costs spent on shedding system maintenance.
Advanced SRM Electronic Switching System
The rapier loom rotational speed can be freely set on the operation interface where a wide range of speeds are available. Thanks to the electronic switching system, the loom can achieve rapid start-up, accurate braking to the designated position, step-less speed control, and automatic speed changing. Changing weaving speed according to the requirements of different creating processes can effectively reduce yarn breakage and set mark thereby making the loom suitable for various weaving applications.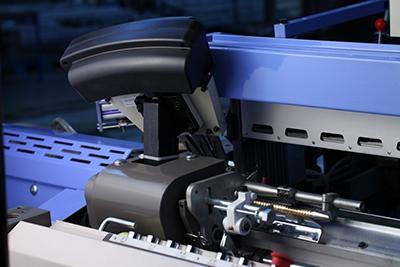 Cutting Edge CPU
The CPU numeric control system utilizes the CAN-bus system to monitor and manage all the functioning modules therein. The big screen displays loom operating status in graphic form. The function keys set on the operating table allows ease of operation. Users can use the SD card to insert production program into the computer or use the RAM card to upload the production data to the internet.
State-of-the-Art Centralized Lubrication System
The double centralized lubrication systems are both controlled by the micro-computer. Where key parts on the loom need to be lubricated, the system will force the lubricating oil spray into them. Its high-precision oil pressure sensor can monitor and display the running condition of lubricating system, in an attempt to ensure the proper functioning of the loom.
Dimensions

| | | | |
| --- | --- | --- | --- |
| Warp flange diamter | L | H1 | H2 |
| φ1000 | 2033 | 527 | 428 |
| φ800 | 1837 | 439 | 332 |
Loom Specifications
LP
A
B Fabric with Slevedge
C Warp Shaft
Maximum
Minimum
Maximum
Minimum
170
2100
1700
900
1700
910
190
2300
1900
1100
1900
1110
200
2400
2000
1200
2000
1210
220
2600
2200
1400
2200
1410
230
2700
2300
1500
2300
1510
240
2800
2400
1600
2400
1610
260
3000
2600
1800
2600
1810
290
3400
2900
2100
2900
2110
320
3800
3200
2400
3200
2410
340
4000
3400
2600
3400
2610
360
4200
3600
2800
3600
2810