Air Jet Loom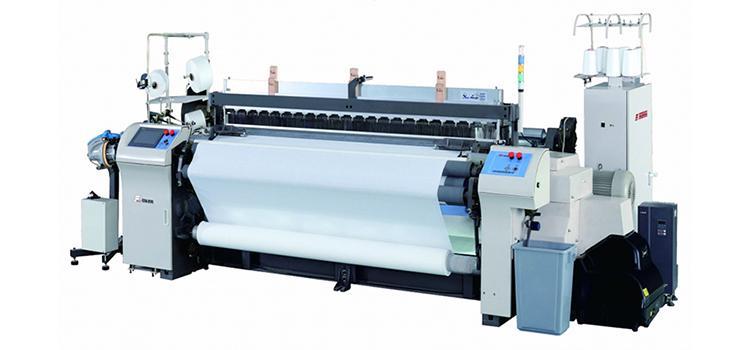 Introduction
The RFJA30 high efficiency energy saving air jet loom is suitable for the production of clothing materials, home textiles, yarn dyed fabrics and some chemical fabrics where the yarn count is from 5-100. The weight of the fabric is about 40-400 grams/m2.
Technical parameters
Reed width (cm)
Nominal reed width: 150, 170, 190, 210, 230, 260, 280, 340, 360cm
Effective reed width: 0~60cm subtracted from the nominal reed width (150~260cm); 0~80cm subtracted from the nominal reed width (more than 280cm)
Weaving capacity
Spun yarn: Ne100~Ne2.5
Filament: 22dtex~1350dtex
Weft selection: 2, 4, 6 colors with the function of continuous extension
Features
1. Remarkable high speed performance and low vibration
The air jet loom features a reasonable design to greatly reduce the vibration and noise. The warp passes the heald wire and the pathway from the heald wire eye to the cloth-fell from the top surface of the back-rest. The stability of the beating-up balance system has been adjusted.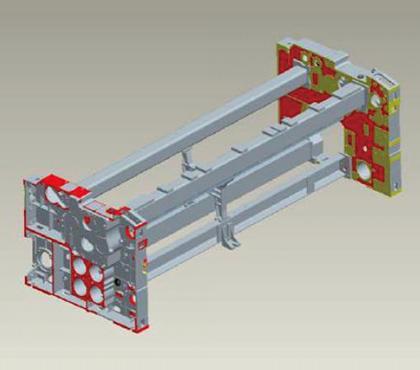 2. New rack and high adaptability
1) Because of the use of a rigid rack, warp beam gear with large diameter and let off mechanism driven by the main shaft and is embedded in the lubrication oil, the air jet loom achieves an improved high speed production. It is also more sensitive and can satisfy the weaving requirements for high density fabrics.
2) The connection of the rack and beam side plates is reasonable, thus the anti-vibration performance and reliability of the loom are improved. This can ensure the high speed and low noise during the loom operation.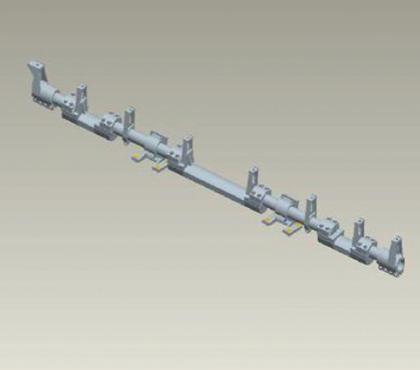 3. Quick change warp beam and quick change cloth take-up unit
The RFRL40 rapier loom can be equipped with a quick change warp beam system to reduce the beam changing time and improve the weaving efficiency.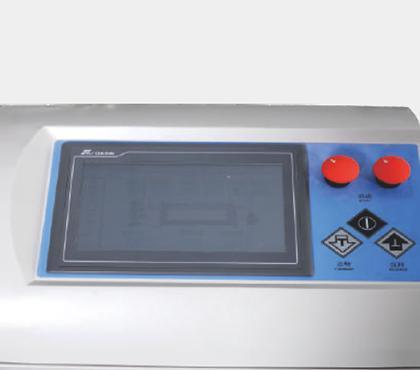 4. Weaving guide
1) The electronic control system has pre-stored various initial setup parameters for a number of fabrics. This set up can be automatically loaded and run, so that various projects are specific and simple.
2) This system carries out adding, modification and storage of the setup so that the setup is more adaptable to the practical weaving environment of the customers.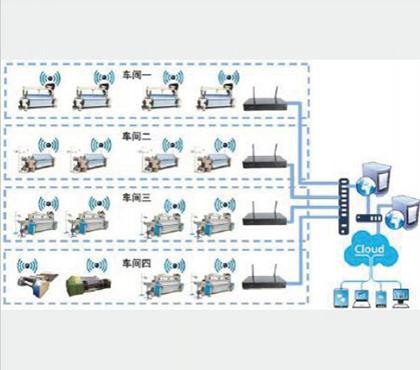 5. Centralized networking
This air jet loom has an excellent networking performance, meaning it can achieve online monitoring of the running condition, efficiency and yield, as well as other parameters.
6. Take up mechanism
1) The take up mechanism is an electronic take up mechanism which can be combined with the electronic let off system. It can also prevent fabric flaws caused by machine stop via accurate normal and reverse turning of the motor.
2) By using a computer controlled AC servo motor, the motor achieves synchronous loom spinning in order to control the beating up density.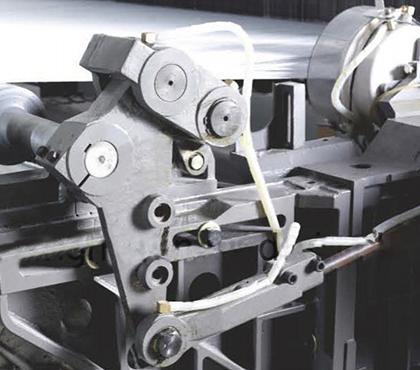 7. Positive let off system
1) In order to make the loom more suitable for high speed weaving, the let off mechanism is installed at the outer side of the complete loom. Adjustment of the let off eccentric gear can be quite simple.
2) The let off system uses a standard double back rest configuration, ensuring the warp tension is constant during the change from a full warp beam to an empty warp beam. This makes the loom suitable for weaving different heavy or light fabrics.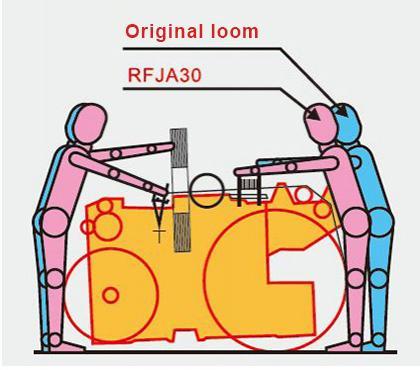 8. Maneuverability
The needle reduces the rack height without changing the packaging capacity, making it convenient for operators to use.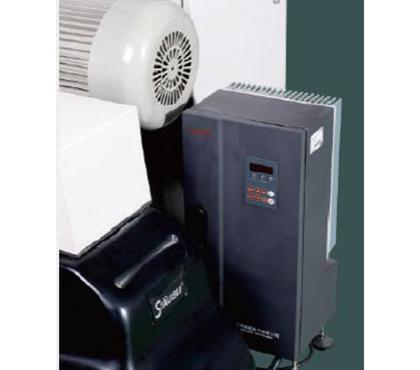 9. Frequency control
By using frequency converter control, the loom operates at the required speed without changing the pulley when required for speed reduction.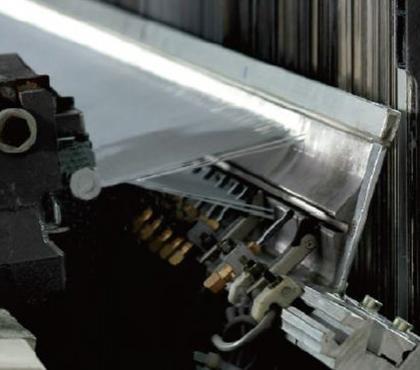 10. Stable cloth-fell
This air jet loom uses an inclined upper temple with a larger angle of inclination and guide rod near the cloth-fell, so that the fabrics will have a stable cloth fell performance.
Configuration
Item
Specification
Power mechanism
Direct stop location control carried out by electromagnetic brake
Super start motor: 2.2KW (crank shedding motion), 3.0KW (cam shedding motion), 3.7KW (dobby shedding motion), 6.5KW (jacquard shedding motion)
Button switch double hand operation
Weft insertion mechanism
Max weft insertion rate: 2300 m/min
Main nozzle and auxiliary nozzle combination (optional extensive nozzle)
Use profile reed (optional ABS weft brake)
Auxiliary main nozzle
Shedding mechanism
Crank connecting link shedding motion: 4 heald frames or 6 heald frames
Positive cam shedding motion: 8 heald frames in maximum
Dobby shedding motion: 16 heald frame in maximum
Jacquard shedding motion
Let off mechanism
Negative or positive let off
Two roller electronic let off with automatic reversing function (optional double warp beam)
Warp beam flange diameter: φ800mm (optional φ914mm, φ1000mm)
Take-up mechanism
Electronic take up
Standard density: 25~300 weft/inch, density degree: 15~300 weft/inch
Max cloth roller diameter: φ600mm (cam, dobby, jacquard shedding motion), φ520mm (crank shedding motion)
Beating mechanism
Crank type beating, multiple sley sword beating
Four-bar links beating (narrow reed width ), six bar links beating (wide reed width)
Accumulator
Electronic accumulator (FDP) (optional vibration accumulator)
Yarn supply frame
Floor stand 4 yarn cone (2 spray), floor stand 8 yarn cone (4 spray)
Selvage mechanism
Planetary gear type selvage mechanism
Yarn end treatment
The waste selvage is collected by two yarn cones, or the waste selvage is collected by gear
Weft cutter
Mechanical weft cutter
Lubrication
Bath oil type for the main drive and manual centralized oil supply (optional automatic centralized oil supply)
Stop motion
Weft stop: photoelectric weft feeler with double probe
Warp stop: 6 list electric contact type heald wire
Others: automatic stop for leno yarn and waste selvage yarn break
Stop motion display: the human computer interface can show the reason of stop motion with multifunctional 4 color stop motion display.
Automatic function
Control: multifunctional micro computer control system which has the functions of parameter setting, control, monitor, self diagnosis and human computer intelligent interface
Break weft finding device: automatic pick finding
Slow inching carried out by frequency converter (normal and reverse inching turning)
Other: output terminal of the monitor
Memory card system
Automatic control of spray
| | |
| --- | --- |
| Flange diameter | Φ800 |
| L | 1958 |
Note:
1. L is the dimension of the Φ800 flange. For other detailed dimensions, please contact us directly.
2. When the diameter of the flange is Φ914 or Φ1000, L is the same as that in the table.
Nominal reed width (inch)
150 (60)
170 (67)
190 (75)
210 (83)
230 (91)
260 (102)
280 (110)
340 (134)
360 (142)
W (2C)
Crank shedding motion
3550
3750
3950
4150
4350
/
/
/
/
Positive cam shedding motion
3920
4120
4320
4520
4720
5020
5220
5820
6020
Underneath positive dobby
4025
4225
4425
4625
4825
5125
5325
5925
6125
A
1500
1700
1900
2100
2300
2600
2800
3400
3600
B
2110
2310
2510
2710
2910
3210
3410
4010
4210
Note: W is the dimension of two sprays. For other product dimensions and specifications, please contact us directly.