High Speed Rapier Terry Towel Loom
Introduction
The RFTL61 high speed rapier terry towel loom is capable of carrying out free terry switching from 3 to 7 wefts. It also carries out an automatic weft density change during operation. Not only does it carry out weaving of normal terry fabrics, but the loom is also used for weaving pile-loop fabric, pique terry, wavy terry, one-sided terry and other high level terry fabrics. This rapier loom features electronic let off, electronic take up, reed movement loop device and an electronic control unit.
Technical parameters
Reed width (cm)
Nominal reed width: 200, 220, 240, 260, 290, 320, 360
Effective reed width: 0~80cm subtracted from the nominal reed width
Weaving capacity
Cotton and spun yarn: 500tex (1.2Ne)—5tex (120Ne)
Filament: 10dte (9Td)—1650dte (1500Td)
Weaving speed
Rotational speed: 550 rpm
Crafting speed: 350-450 rpm (Depending on the effective reed width and the relative configuration)
Maximum Weft Insertion Rate: 1350m/min (Depending on the effective reed width and the relative configuration)
Weft selection
8 colors
Features
1. The RFTL61 high speed rapier terry towel loom features a loop motion controlled by a precise servo:
It uses a CPU microprocessor to manage and monitor the electronic take up/let off parameters for synchronous weaving.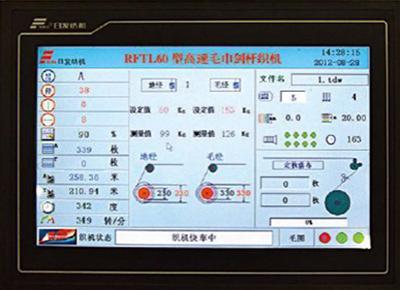 2. All round control:
This loom is capable of two way communication via a large LCD screen. It can set and adjust various parameters in real time in order to reduce labor costs.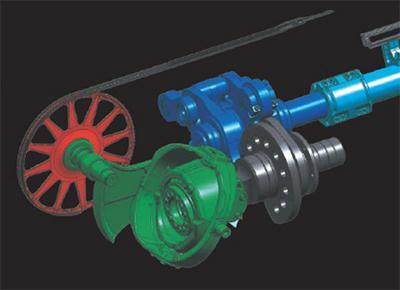 3. Weft insertion system:
The rapier is driven by the spatial crank connecting link in order to effectively improve the speed as well as ensure an accurate, stable rapier motion and weft connection during high speed operation. This reduces weft breaking and improves the weft insertion efficiency.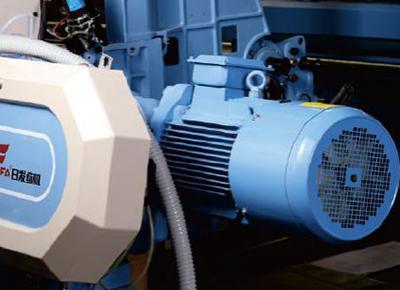 4. Driving system:
This loom uses a switch reluctance machine for direct drive and a belt without a clutch. The machine carries out automatic speed change during startup, which reduces the energy by anywhere between 10 to 30%, ensuring this equipment is economical and saves energy.
5. Reed movement loop motion:
This rapier loom uses a sley motion to generate terry, thus reducing the secondary friction with the yarn. The precision is 0.01mm.
6. The electronic weft selector is controlled by the step motor. It features a weft color selection of 2 to 12 colors.
Configuration
Item
Specification
Weft mechanism
High speed electronic weft selector
Feeder: FPD electronic accumulator
Weft cutter: mechanical/electronic weft cutter
Power mechanism
Drive control: 7.5kw 3 phase asynchronous motor (main motor) that uses a belt and electromagnetic clutch brake to control start and stop
Direct drive: rapid response, low power consumption. Permanent magnet motor direct drive.
Loop motion
Servo loop motion: dynamic looping control which features an automatic 3-7 weft loop motion and switching function
Terry length: set freely from 0-24mm. The spacing accuracy is within 0.01mm.
Shedding mechanism
High speed electronic dobby with up to 20 pull rods
Electronic jacquard
Beating up mechanism
Sley motion by conjugate cam on both sides
Weft insertion mechanism
Spatial crank connecting link, guide hook
Let off/Take-up mechanism
Continuous AC servo electronic control
Lubrication
Concentrated pressure oil supply: oil spray lubrication, bath oil lubrication
Automatic function
Automatic loom stop at the designated point, slow-speed pick-finding, cloth-fell compensation, warp tension adjustment, automatic detection, reset, loom fault resetting
Electric controlling
Control: multifunctional CPU control system which can control, monitor, automatically diagnose and display information.
Display: large touch screen for two-way communication, button operation, setting or adjusting parameters, real time programming
Details